Choosing a Customer Relationship Management CRM Software solution can be a daunting task. You want to make sure you select the right product that offers all the features you need, and is easy to use, integrates seamlessly with other systems. We've compiled tips on how to evaluate different CRM solutions for your business for you to consider when making this important decision.
How to Choose the Right CRM Software for Your Business 
Gain clarity on making the best decision when choosing Customer Relationship Management (CRM) software for your business. Get tips on features, integrations, and more!
Assess Your Business Needs
One of the first steps in choosing the right CRM system is to assess your business needs. Consider what kind of data you need to store, how it should be organized, and how it will be used. Think about how quickly you need customer info to flow between departments, and which features are absolutely essential for your organization. Once you have a clear idea of what you need from a CRM solution, the next step is selecting the one that best meets those needs.
Define your CRM needs
Before you begin the search for the right CRM system, first define your company's specific needs and goals. Make a list of all the features that are necessary for successful customer relationships including lead management, sales automation, customer service tools, data analytics, and any marketing or collaboration tools you may need. When considering potential solutions it's best to evaluate them based on how well they meet those criteria.
Identify key features
After creating your list of criteria, consider each feature individually and how important they are to the success of your business. Prioritize the features that are most essential and make sure that any CRM you choose will meet those needs. Additionally, keep in mind future expansion or new services that you may need to implement later down the line when evaluating CRM solutions.
Choose the right platform
There are multiple platforms available, each with different implementation options and pricing points. Consider the benefits and drawbacks of various types of CRMs such as hosted versus on-premise, open source vs proprietary, and cloud-based vs premise-based systems. Some of the common questions to ask when deciding on a platform include: Do I want ownership of my software or pay a fee for use? What kind of customization is available? Is integration with external systems like accounting packages important? Are there any management tools built into the system?
Consider integration options and capabilities
Integration with other software, such as accounting packages, can be extremely important for many businesses. Be sure to choose a system that is easily integrated and offers features for multiple users. Think about future growth and consider the scalability of the platform, meaning it should be able to grow alongside your business. Additionally, look into whether the platform's app can interact with other system administration tools (such as CRM dashboards or analytics). This will make fast data updating and reporting much easier.
Ready to move forward with your CRM software development plans? Let our experts at Deuglo help make them a reality. With years of experience and personalized customer service, we are here to make the process seamless.
Summary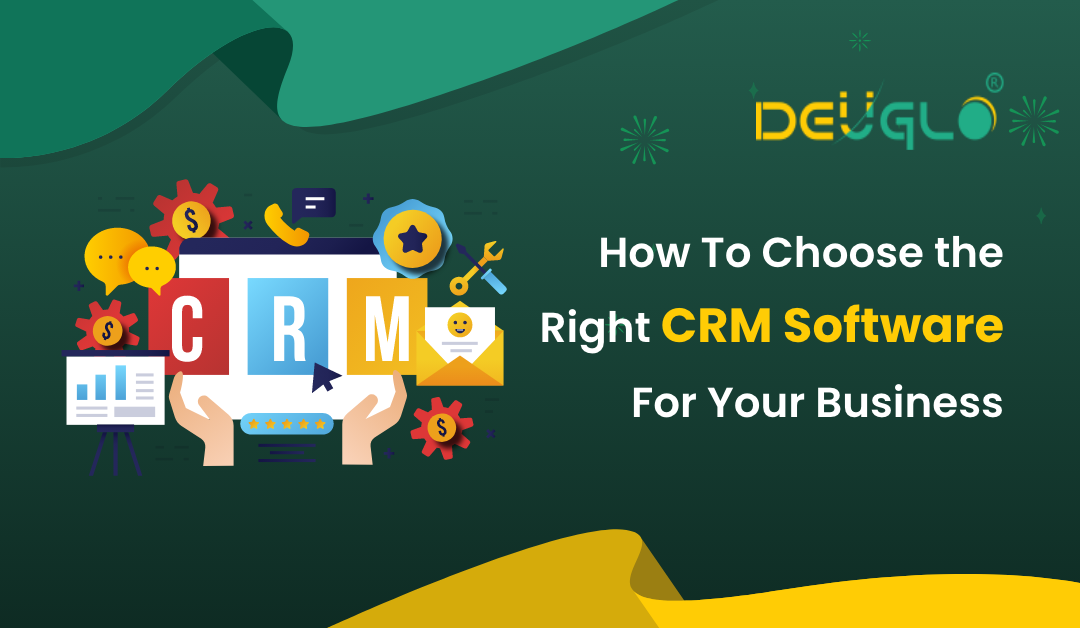 Article Name
How To Choose the Right CRM Software For Your Business | Deuglo
Description
Looking to hire a web development company? Find out what traits and features you should look for in order to find the best one for your needs.
Author
Publisher Name
Publisher Logo