Online Reputation Management (ORM) is an essential part of managing your digital presence.It can help you boost your visibility, enhance customer engagement, and establish a more favorable impression  of your business across the web. In this article, we'll discuss the basics of ORM and how you can start implementing it into your digital marketing strategies today.
How to use ORM in Digital Marketing Strategy
Improve visibility and customer engagement with Online Reputation Management (ORM)! Learn best practices on how to implement it into your digital marketing strategies today. 
Utilize SEO to Boost Your Brand Image
ORM starts with taking control of your website's content. This means optimizing for the right keywords and improving its overall visibility within the search engines. To enhance your brand image, it's important to make sure that all content associated with your business is accurate and relevant. Strive to achieve higher rankings in SERPs so that positive results appear as users search for certain keywords related to your business or industry. Additionally, you can use social media channels such as Reddit and Twitter to interact with customers directly and create an even stronger online presence.
Monitor Reviews Aggressively 
Regularly checking reviews from sites like Yelp and TripAdvisor is essential for keeping your ORM efforts in check. Whether the reviews are positive or negative, engaging with customers has a lasting impression on how other potential customers see your business when they search for you online. Monitoring genuine customer reactions not only helps to maintain your reputation but extends opportunities for growth. Additionally, it's important to respond quickly to any negative sentiments; the quicker you respond and make amends, the more likely customers will leave good reviews rather than bad ones.
Respond Quickly and With Care
When it comes to Online Reputation Management, the key is fast & helpful responses. Customers appreciate it when businesses take their time and respond thoughtfully, even if the solution isn't immediate or within the customer's favor. A quick response also limits your chances of getting a negative review—with customers already feeling heard and cared for before a bad review can be left. Even if you don't have the ability to immediately provide a solution to an unsatisfied customer, responding right away to their concerns is key to improving their experience with your brand.
Utilize Strategic Influencer Marketing 
When creating your ORM strategy, don't forget to incorporate influencer marketing! Influencers with a loyal following can help spread the word of your brand in a positive light and get more people to engage with your content. Consider partnering with influential creators who create content in line with your brand's mission, values and goals—this will allow you to maximize the impact of influencer marketing in order to build better relationships with customers. Don't forget to monitor both how visitors on social are responding as well as what is being said about your brand on platforms like Reddit, which allows for deeper customer insights not commonly seen through traditional forums.
Leverage Social Media Platforms & Communities
Make sure to take advantage of all social channels available. This means utilizing different types of content, including text, images and videos, in order to reach more people and engage more effectively. Consider creating both short-term and long-term campaigns with organic content, paid campaigns as well as influencer marketing. It's essential to understand how conversations about your brand are taking place on various platforms like Twitter, Instagram or Reddit. Monitor these conversations regularly for customer feedback and use intelligent automation tools if available to respond accordingly. This will help you continually deliver a great customer experience if implemented correctly into your overall digital marketing strategy.
Increase the visibility of your brand online with Deuglo's groundbreaking approach to ORM in digital marketing. Our comprehensive services offer reliable customer insights to help you manage your online reputation.
Summary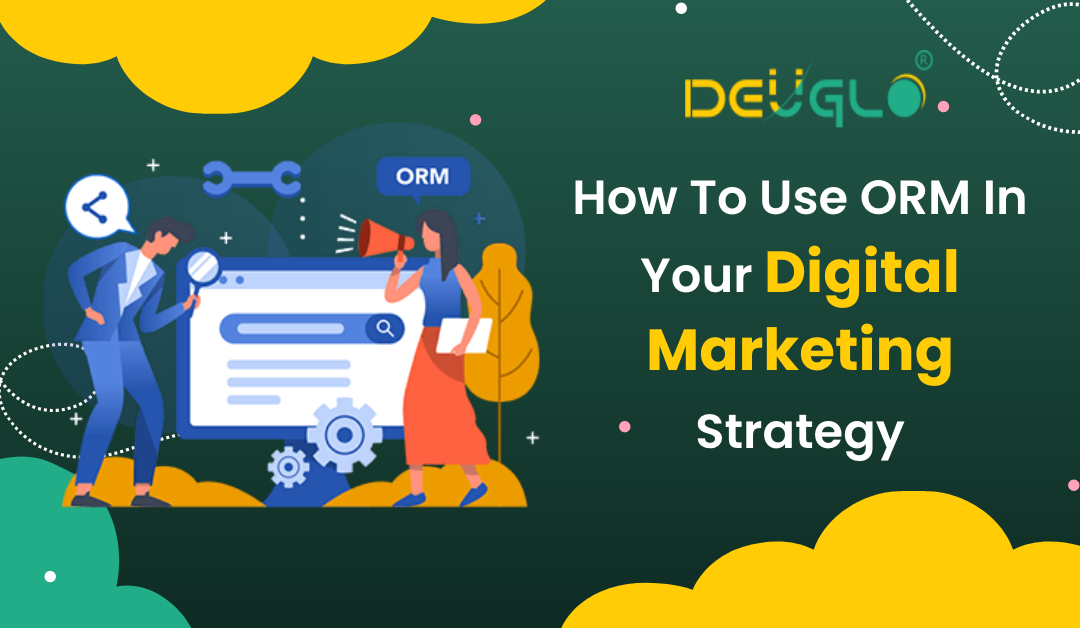 Article Name
How To Use ORM In Your Digital Marketing Strategy - Deuglo
Description
Improve visibility and customer engagement with Online Reputation Management (ORM)! Learn the best practices on how to implement it into your digital marketing strategies today.
Author
Publisher Name
Publisher Logo