Healthcare Software Development Company in India
Healthcare may be a stressful environment. As a result, we being the leading Healthcare Software Development Company strive to make the digital experience as simple as possible with our healthcare software and app development solutions. Making difficult healthcare procedures easy and gaining the confidence of patients and other users takes a tremendous deal of work and understanding. The devoted specialists at Deuglo work tirelessly to ensure that healthcare digital experiences are both worthy and easy during stressful times.
Healthcare Software Development with Deuglo
A perfect mix of technical innovation and process conversion will be required in order to reduce the cost of therapy while simultaneously increasing patient care. Working with industry leaders to drive transformation initiatives in areas like patient involvement, care delivery, clinical trials, operations, and equipment and diagnostic development are some of our specialties as a Healthcare Software Development Company.
The digital transformation of healthcare is facilitating the availability of inexpensive care solutions, enhancing patient care, lowering complexity, increasing efficiency, and providing healthcare decision makers with actionable knowledge at the point of treatment, among other benefits. We take great satisfaction in being one of the few custom healthcare software development services companies that is always working to achieve your digital transformation objectives via innovative custom healthcare software development.
A considerable amount of value may be added to technology-based and enabled innovations in the healthcare business, and this is a big opportunity. Major technological advancements such as interoperability, advanced analytics, machine learning, and the Internet of Things (IoT) will improve the entire healthcare service delivery chain, from diagnosis to post-care, while also improving the relationship between patients, caregivers, and other leveraged partners, according to the World Health Organization. It is precisely for this reason that the introduction of the newest digital technologies, particularly the Internet of Things (IoT), in Healthcare Software Development Firms is being pushed further.
A 'digital thread' will be unleashed over the next few years that will allow patients to interact with care teams at any time and from any location. This will include data from IoT-based healthcare records and systems, as well as patient interactions with care teams at any time and from any location. Deuglo Technologies, with its cutting-edge Internet of Things solutions, has established itself as a leading healthcare app development business in India. What distinguishes us from the abundance of Healthcare Software Development Companies in India with our dynamic bespoke healthcare software solutions is our zest for innovation, which is combined with our technical competence, powerful analytics, and a worldwide talent pool.
Medical and healthcare applications are unquestionably gaining in popularity. It is our privilege to be considered one of the finest Healthcare Software Development Services in India. With our assistance, you can develop sophisticated software that will allow you to manage and analyse hospital and patient information in a more efficient and effective manner than ever before. We provide a variety of one-of-a-kind and cost-effective mobile app solutions that contain a variety of creative features to meet any and all of your needs.
Healthcare development on a one-on-one basis
We design and develop specialized Custom Healthcare Software Development to assist healthcare providers in managing all medical and patient data, as well as connecting the data and resources via integrated EMRs, HIEs, and PACS. Our clients include hospitals, clinics, and insurance companies. Working together with hospitals and doctors all around the world, we have gained a thorough understanding of the business requirements and best practices necessary to guarantee the success of software usability initiatives.
Integration with third-party systems
Integrating with the top health and fitness-related smartphone platforms, such as Apple's HealthKit and Google Fit, is something we are quite familiar with. Aside from this, our professionals can also interface with EHR and EMR systems, as well as with any other current healthcare information systems.
Regulatory and security standards and guidelines, such as HIPAA and PHIPA; EHR and ICD-10; EVV; HL7 Integration; and Telemedicine compliances, are all taken care of by our company. By adhering to these data security standards, we may guarantee that data breaches, data abuse, and all other types of unwanted data access are avoided. We use the most cutting-edge methods available for data encryption, reliable backup services, and the prevention of illegal access to your information.
Data analytics and consultancy in the healthcare industry
It is our privilege to have a highly skilled team of engineers and specialists that analyse large amounts of medical data utilizing Big Data and other technologies, therefore assisting in contextualizing the application while optimizing the workflow and forecasting the most appropriate business choice.
Emerging Solutions we strive on
In our experience at Deuglo, we are experts in developing bespoke EMR/EHR systems that improve processes while also ensuring that patient vitals are recorded in an organized and seamless way.
Tailored Telehealth Solutions
Aside from that, we at Deuglo design unique telemedicine solutions to increase patient flow and generate income by providing online therapy. In order to design future-ready telemedicine systems filled with clinical features and connection for remote patient monitoring, diagnosis, and treatment, we make use of the Internet of Things (IoT) and wearable technologies.
Image management and analysis in the medical field
In order to meet the needs of medical research and varied clinical requirements, we as the leading Custom Healthcare Software Development Company develop independent medical imaging software programs. In addition to addressing a wide range of medical picture modalities, our imaging solutions also target early diagnoses and the reduction of mistakes in diagnostic procedures.
Development of mobile health applications
For the mobile environment, we use our current healthcare knowledge and develop powerful mHealth applications that can answer health care needs of all sorts as they emerge both inside and outside medical institutions and hospitals.
Practice management software.
We design and develop Custom Healthcare Software Development Services and solutions that are capable of handling all parts of clinical medical operations, compliance, booking, data administration, and other areas of practice – hospital management solutions – from conception to completion.
Software for health management
We at Deuglo provide Cognitive Healthcare Software Development systems that are capable of controlling patient activities, tracking patients' health status remotely, and providing customized health care to patients.
Patient interaction systems.
In order to assure the highest level of patient involvement and engagement, we develop comprehensive patient engagement systems that include patients and care receivers in their own personal health management.
Why you should consider working with a healthcare software development company like Deuglo
At Deuglo Technologies, we are committed to revolutionizing the healthcare industry as quickly as possible. As one of the leading healthcare software firms, we have extensive experience in offering bespoke healthcare application development services that result in user experiences that are both tailored and streamlined. We recognize that the goal of moving toward digital health is to bridge the gap between physical distance and real-world competency in healthcare by using interactive and financially sustainable methods of communication and collaboration.
Deuglo Ensuring Software Security and HIPAA Compliance
We build safe software architectures, test compliance with HIPAA rules, and undertake security testing for all major and minor development for all of our healthcare projects as routine procedure. Aside from that, we adhere to the strictest standards of quality and security assurance throughout the creation of healthcare software, and we adhere to industry best practices that are compliant with HIPAA regulations.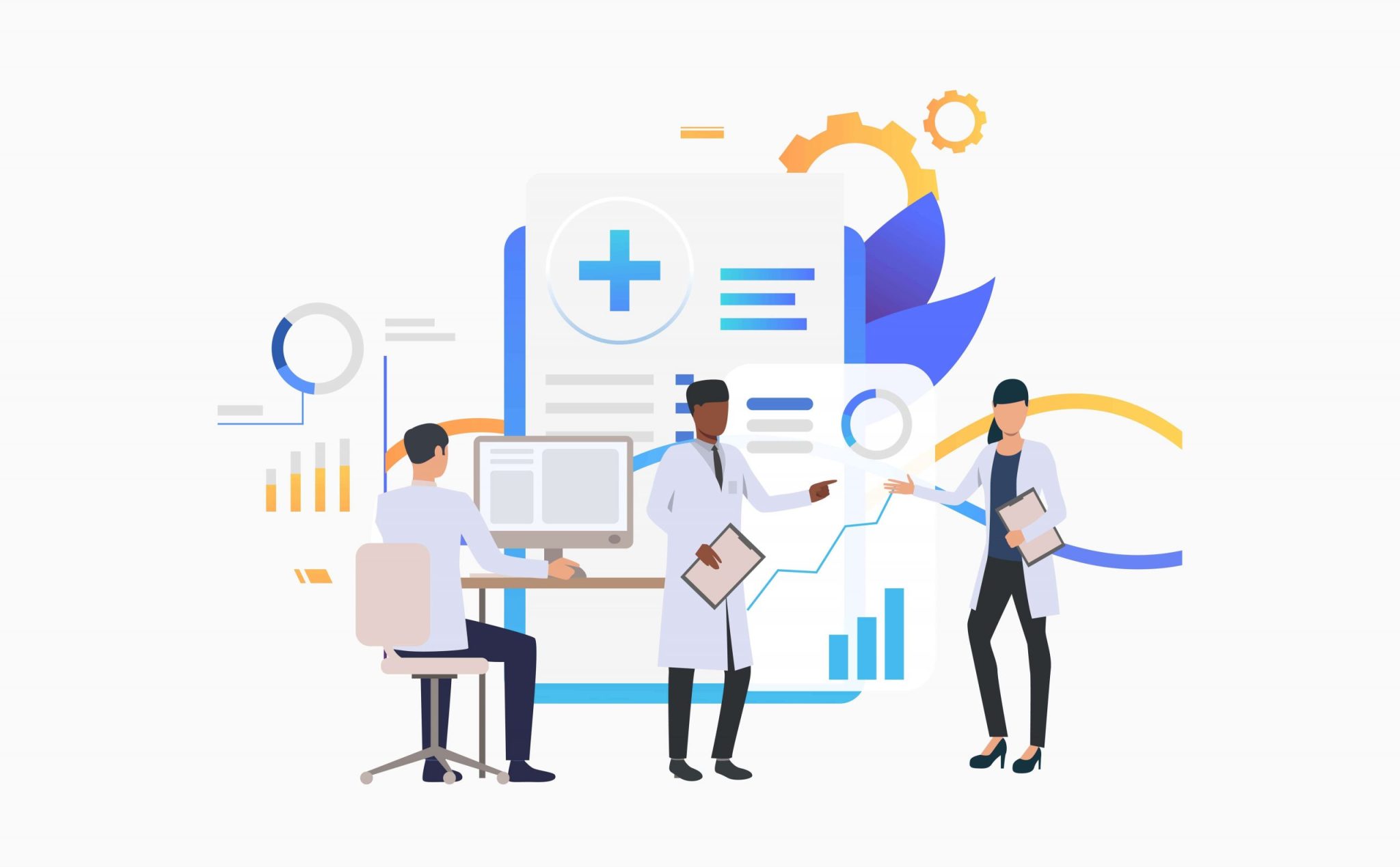 Frequently asked Questions
What is Healthcare Software?
Healthcare software includes systems that are used by health care providers to manage patient records, provide medical services, and make clinical decisions. These systems can include electronic medical record (EMR) systems, medication administration systems, hospital information system (HIS), radiology reporting systems, laboratory information management systems, surgical navigation systems, and many others.
Healthcare Software Solutions
1. A healthcare software solution is a system that helps provide medical care. This can include patient records, doctor scheduling, and billing systems. There are many different types of healthcare software solutions. Some are web based and some are desktop applications.
2. Electronic health records (EHR)
Electronic Health Records are digital copies of your patients' health information. They contain lab results, prescriptions, and other important information about your patient's health history. EHRs are becoming increasingly common throughout all fields of medicine.
3. Medical billing software
Medical Billing Software is used to track and manage money related to your practice. Many doctors use this type of software. It allows you to keep accurate and organized records of your patients' payments. You can even set reminders to follow-up with your patients regarding their bills.
Why do we need Healthcare Software?
The demand for a better quality of life has increased dramatically over the years. With this increase in demand comes an increase in the quantity of people who have access to medical services. This means that the amount of data being generated by these medical services is increasing daily. In order to effectively manage and store all of this data, healthcare organizations require robust healthcare software.
How does healthcare software differ from other types of software?
There are two major differences between healthcare software and any other type of software. First, healthcare software is designed primarily with the needs of the healthcare provider in mind. Because of this, healthcare software tends to be much more complex than other business-oriented applications. Second, healthcare software is often developed specifically for use in hospitals and clinics. This makes it unique because it is designed based on the specific requirements of the industry involved.